May 12, 2020 10:30AM
-
June 23, 2020 10:30AM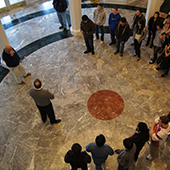 Palladium Public Tours
Change event date
Choose from the list below to jump directly to another offering of this event.
Continue Shopping
Event details
Date
June 9, 2020 10:30AM
Venue
General Admission
Title
Palladium Public Tours
Notes
Please note that there are no physical tickets needed to attend the tour.
On your tour date, please arrive by 10:20 AM at the Palladium's West Lobby/Box Office entrance off 3rd Avenue SW.
Tour guides are scheduled to work based on reservations placed. If you are unable to attend after making a reservation, please notify the Box Office at 317-843-3800.