April 24, 2020 7:30PM
-
May 17, 2020 2:00PM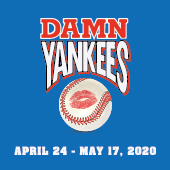 Canceled - Damn Yankees
Change event date
Choose from the list below to jump directly to another offering of this performance.
Continue Shopping
Event details
Date
May 17, 2020 2:00PM
Venue
The Studio Theater
Title
Canceled - Damn Yankees
We're Sorry!
Tickets are not currently available for this event. Please contact our box office at 317-843-3800 or tickets@thecenterpresents.org for additional information.